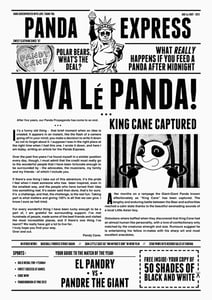 £

6.00
Panda Express - A2 screen print poster: £15.
These are limited to 25, numbered and signed.
This is the last ever release. I had been planning on doing it for bloody years, so rather than not, I decided to go for one last try. I'm always struggled with the design side of the brand, so this is my last and best effort to date. The Panda Express. and I'm super happy with the outcome. I hope you will be too.
It's a sad day, but with this I wanted to say thank you, show off some of the ideas that never got realised and tie up some loose ends! As some of you may know, PC was born out of the craving for chinese food, so the paper itself is in homage to the restaurant by the same name. There's numerous hidden jokes in there, pretty much everything on there pays reference to releases past or future ones that never got printed.
If you would like to know more about any of the references, please feel free to tweet me with your questions!
Big thanks to Two Ducks Disco for the photo of King Cane
It is hand printed on 300gsm paper (very nice) and will be sent out in a suitable poster tube to protect it! (should ship Aug 10th at the latest).
thanks, for everything.
Tom